A Complete Digital Experience
Outperforms Siloed Solutions
40%
Digital customer service interactions will increase by 40% in 2021


-Forrester
71%
of company leaders say their employees are far more digitally mature than their organizations and are "waiting for their company to catch up.


-Accenture
80%
Of companies are investing in the omnichannel experience has jumped from 20% to more than 80% since 2020.


-PWC
Successful insurance and insurtech companies know the importance of creating a cohesive digital experience. When designing digital solutions, it's crucial to consider the perspective of all stakeholders; a positive digital customer experience (DCX) will lead to higher revenues, and a quality digital employee experience (DEX) will reduce workforce turnover and boost productivity.
At RD Global we're well-versed in the power of human-centered design. When you partner with us, developing a solution that meets the needs of your complete user base is our primary focus. We also make certain to include every interface where people connect to your company as part of your digital transformation strategy; these touchpoints can include chatbots, mobile applications, SaaS platforms, and desktop software.
I need to elevate our customer journey and digital customer experience.
In the highly competitive insurance industry, any company with an eye on growth and increased revenue understands the importance of providing a great DCX. With the increasing number of customers completing operations remotely on mobile devices, the digital customer experience matters more than ever.
Our development team is well-versed in all of the latest digital solutions available to insurance companies that need to wow and delight their customer base. Recruit RD Global as your secret weapon to win and retain more customers and watch how your conversion rates grow.
I need to enhance our employee experience, reduce churn and increase collaboration
Lack of appropriate digital tools has a real financial impact. According to a recent study a company of 10,000 employees can lose up to $25 million per year on technical disruptions and a poorly designed digital employee experience.
We recognize that the true value of any insurtech company lies in its people. Smart companies provide their team with the tools they need to succeed. We've worked with insurance companies of all sizes to develop software that boosts productivity and streamlines regular workday tasks. Our dedicated solution architects are ready to work with you to build a DEX platform that will allow your employees to truly shine.
"According to one recent study, organizations with the most compelling workforce experiences generated 22 percent higher engagement among their workers than organizations with a less compelling workforce experience."
Technologies & Certifications
Client Story
Insurtech Multi-Rater Quote-to-Bind Platform
Learn how we helped a reputable insurance holding company, enter the world of insurtech with a new line of business with a modern digital experience.
Learn More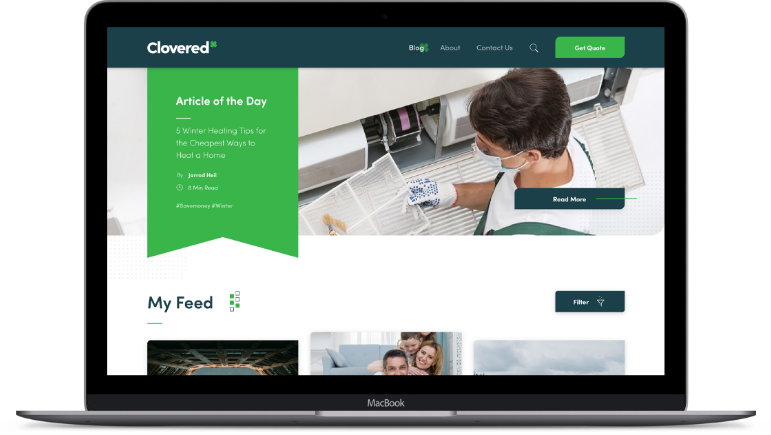 Common Customer Questions
What is Human-Centered Design?
Human-centered design (HCD) is a core component of a well-thought-out digital transformation strategy. It puts the human perspective first in all decisions made regarding implementation, development, and design in a digital environment. HCD has proven to reduce friction, increase conversion rates, and vastly improve the digital experience for companies' customs and employees.
Do You Provide "Self-Support" Solutions?
Research conducted by Harvard Business Review shows that 8 out of 10 customers will try to sort out an issue themselves before contacting a live customer rep. At RD Global our solution architects can work with you to implement interactive chatbots, searchable knowledge bases, and a host of other tools to satisfy your unique self-support requirements.
Can I Personalize the Digital Customer Experience?
The power of intelligent tools like big data analytics (BDA), artificial intelligence (AI), and machine learning (ML) allow us to seamlessly inject personalization into any interface where you customers engage your company. Schedule a call with a member of our team today to learn more about how we can help you!
RD Global Empowers Insurance Companies to
optimize total digital experience, unify data, and harmonize
processes by developing high impact technology solutions
infused with a 5-star customer experience.