200%
Growing non risk bearing
business by over 200% in a year
10,000
Used by nearly
10,000 independent agents
40%
Premium growth
in one year
Initial Environment
A publicly traded insurance holding company wanted to embrace the insurtech revolution and increase market share by opening a digital line of business focusing on the values of a modern customer. Taking these ideas, the company wanted a way for consumers to get a quote and purchase an insurance policy that fits their needs without having to interact with an agent. To create an online insurance marketplace, the first of its kind in Florida, they needed a partner with domain knowledge and experience in the insurance industry, to create a sophisticated online solution that accurately and securely binds policies online.
Stakeholders we worked with.
The RD Global team worked with:
Chief Information Officer (CIO)
VP of Corporate Dev. and Claims
Testimonial
"Having a trusted partner in the insurtech space has allowed us to turn our ideas into custom designed software solutions with digital experience at top of mind. Beyond their technical expertise and impeccable delivery methodology, knowing RD Global has familiarity dealing with strict insurance regulations and security protocols gives us comfort moving forward into this digital line of business."
"RD Global has been an ideal partner to deliver solutions that improve the customer experience across all digital touch points. Together, we are committed to enable the consumer to prepare, protect and recover from losses as well as to learn about insurance using technology."
Our Solution
RD Global provided:
Discovery,
business analysis
Design &
System architecture
UX (User Experience)
design
Establishing the new line of business from the ground up, required a vast amount of skill sets from branding and user experience to data management, system integrations and eCommerce.
Using the agile philosophy, RD Global identified features that quickly deliver benefits:
Multi-rating quoting platform that auto-populates pertinent home information and risk data
Created an educational insurance archive by designing an easy to update Content Management System (CMS)
UX focused form flows to simplify customer journey and optimize conversion rates (CRO)
Branding and Style Guides
Buttons that encourage user engagement
Iconography and marketing assets
Ecommerce payments
CMS Admin Module for easy site management
Tracking and Analytics
Social Media Integration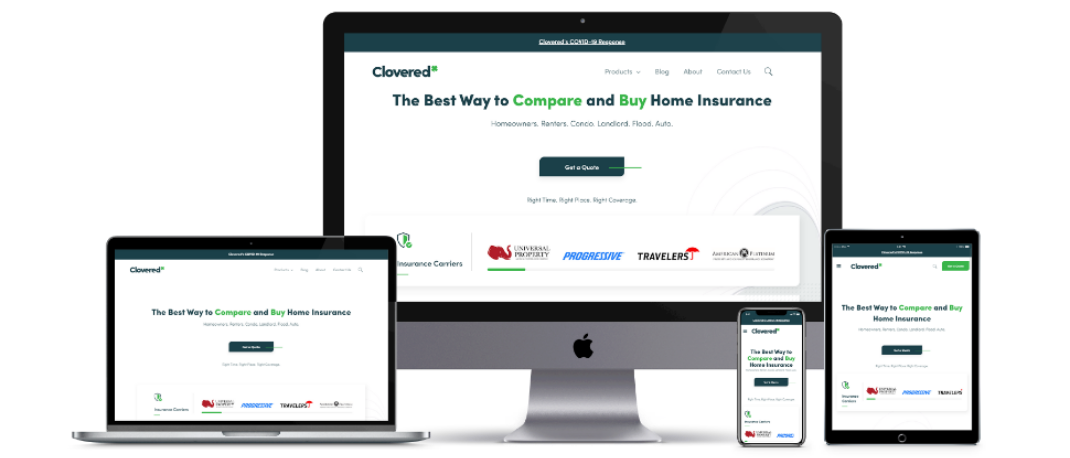 The Results & Stats:
200%
Growing non risk bearing
business by over 200% in a year
10,000
Used by nearly
10,000 independent agents
40%
Premium growth
in one year
In addition to providing the ability to quote and bind entirely online using a multi-rater tool that auto-populates pertinent home information and risk data, this insurtech's website serves as an ever-updating archive of free informational content that strives to demystify insurance and break down insurance concepts into simplified terms.
With its digitally centric mentality and strong focus on creating a better consumer experience, insurtech's website provides value to its consumers and partners. Its archive of educational information is always free and located at the consumers' fingertips — because we believe, educating people about insurance helps consumers make better-informed decisions.
Digital Experience Spotlight
Our design team did a tremendous job with this site focusing on bringing in revenue by providing customers exactly what they are looking for without distraction and on time.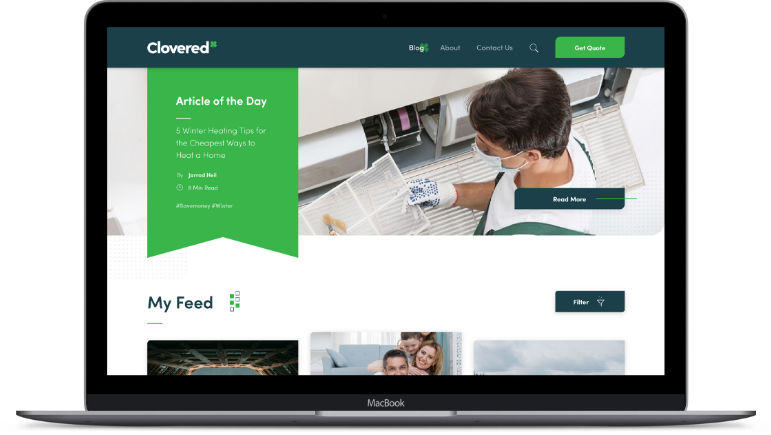 Elevated Digital Experience
For their digital line of business, our client needed a cohesive customer experience that understands the values of the modern inturtech buyer.
Our team created a new brand and user experience that works together to engage and delight customers, increase conversion and click-through rates, and ultimately increase revenue.
RD Global Empowers Insurance Companies to
optimize total digital experience, unify data, and harmonize
processes by developing high impact technology solutions
infused with a 5-star customer experience.