$2M
2 million dollars saved
over 2 years
2094%
Increase in Mobile
Application Downloads
930%
Increase in
Customer Engagement
Initial Environment
As part of a routine refresh cycle, a reputable Property & Casualty Insurance Company embarked on the journey to digitally transform the look and feel of their public facing websites and mobile applications. The goal was to create a modern aesthetic with innovative features that would improve policyholder adoption and increase their return on investment (ROI). While they engaged a marketing agency to generate the relevant landscape analysis, persona definitions, style guides and SEO strategy, they were looking for a partner who could work with the technical leads at the marketing agency to flawlessly develop against the wireframes and prototypes. This created an opportunity for RD Global to work very intimately with the management team and share early opinions through a more technical lense. This created an environment where RD was able to leverage industry experience and challenge the technical leads at the marketing agency to push beyond the status quo by elevating the level of creativity while the wireframes were rough layout concepts. Once websites were launched, RD Global assumed the role of a trusted advisor who led additional user experience and development efforts for mobile, claims and document management features on the websites.
Stakeholders we worked with.
The RD Global team worked with:
Chief Information Officer (CIO)
VP of Corporate Dev. and Claims
Testimonial
"We needed a partner, but we received a trusted member of the team who provided industry insight each phase of the implementation, and challenged us to elevate our expectations to create a product that we were truly proud to share with the user base."
"RD Global truly looked out for the best interest of the company. While working seamlessly with our design partners, they questioned each approach to ensure that deliverables were executed with an elevated level of excellence, customer service and attention to detail."
Our Solution
RD Global provided:
Discovery,
business analysis
Design &
System architecture
UX (User Experience)
design
Mobile Application
Development
RD Global consulted with stakeholders across the organization including Claims, Corporate Development and Strategy, as well as Marketing to construct a cohesive online experience that allows all parties to easily engage throughout the claims process.
Using the agile philosophy, RD Global identified features that quickly deliver benefits:
Build an online portal for claims filing
Developed portal for the call center team to better support customer communication, engagement and support.
Refreshed the public website's look and feel with an easy-to-use content management system
Completely redeveloped mobile app (native to iOS, Android)
Implemented many mobile features that drove user engagement and increased value (facial recognition, video calls, online claim filing, online payment, document submission)
Simple registration for policyholders
Ability to file claims and check claim status
Policyholders can access policy documents
Policyholders can complete In-App Bill Payments
Policyholders can manage paperless settings
Mobile app utilizes secure fingerprint and facial recognition for effortless sign in
Integrations to 3rdparty companies to securely upload files associated with a claim
Developed RESTful APIs to link the website with claim systems
Developed data analytics capabilities and visual reporting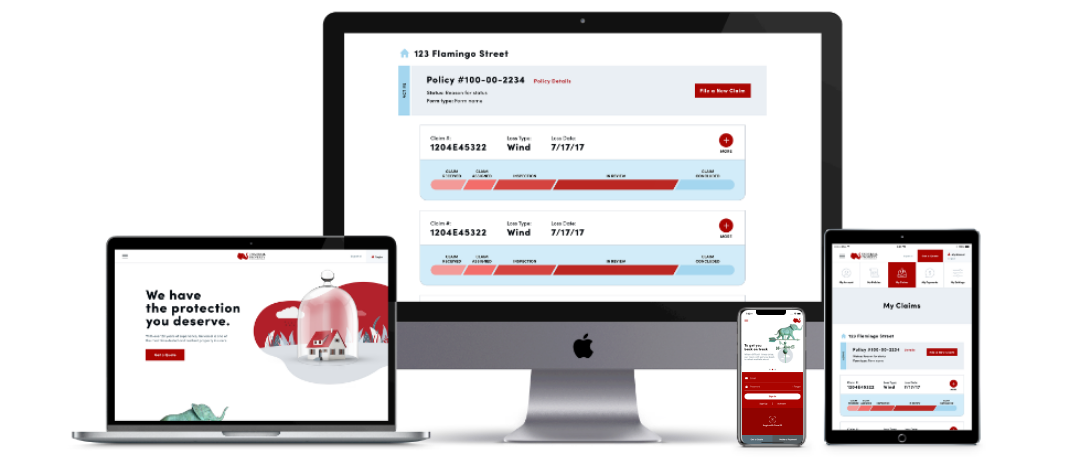 The Results & Stats:
$2M
2 million dollars saved
over 2 years
2094%
Increase in Mobile
Application Downloads
930%
Increase in
Customer Engagement
Creating a comprehensive digital claims portal, mobile app, and updating underlying systems with secure access for all parties has helped our large insurance customer achieve their stated goal of providing their policyholders with fast reliable claims processing that expedites certain claim payment types. The new app design resulted in a 2,094% increase in downloads, allowing policyholders the ability to easily register for digital services, which increased customer engagement by 930%. Policyholder online payments and electronically filed claims optimized engagement and enhanced customer experience and satisfaction, demonstrated by an 89% monthly weighted average renewal retention rate in 2019.
Streamlining data and incoming revenue through paperless communications, has resulted in cost savings of over 2 Million dollars in two years.
RD Global Empowers Insurance Companies to
optimize total digital experience, unify data, and harmonize
processes by developing high impact technology solutions
infused with a 5-star customer experience.